I love Roald Dahl. He books are slightly dark and they appeal to my sense of humour. They always have. I have Roald Dahl books from when I was a kid.
Some interesting facts about Roald Dahl:
Dahl was named after Roald Amundsen, a fellow Norwegian and the first man to reach the South Pole;
During his school years, the pupils at his school were asked to trial chocolate bars. This is the memory that inspired Charlie and the Chocolate Factory;
Dahl enlisted in the Royal Air Force during WWII;
In September 1940, Dahl received severe injuries to his head, nose and back when his Gladiator crash-landed in the Western Desert; and
Dalh had five children with American actress, Patricia Neal.
Favourite book number 1
The Witches – my sons didn't like this one, they found it scary. I loved it. I delighted in the creepiness of the witches who are described as evil women who hate children and who are very difficult to spot. There are fundamental differences between witches and women but they go to great pains to hide their bald heads, toeless, square feet, claw-like finger nails, blue spit, eyes that change colour and large nose holes. If you spot a women wearing gloves, with blue tinged teeth and large nose holes, run like mad – she may be a witch.
I liked Grandma who was a very strong and powerful character and the idea of a grand plan to rid the world of all children. I also enjoyed the stories about the disappearances of the children in Norway at the hands of witches. It was all so entertaining and clever.
Favourite book number 2
Charlie and the Chocolate Factory – How can you not love a book about chocolate … well …. everything. Charlie and his family are so poor they are on the verge of starvation when Mr Willy Wonka, the eccentric inventor of chocolate delights, decides to run a competition. Five golden tickets are hidden in five Wonka chocolate bars and the finders of the golden tickets will win a tour of the factory and a life-time supply of chocolate. Four of the five winners are the most horrible children imaginable with even more horrible parents. The book features amazing treats, an entire work workforce of tiny little people called Oompa Loompas, a glass elevator that can travel sideways as well as up and down and wickedly humorous poetry.
This is my favourite stanza from a poem about the perils of television from the book:
IT ROTS THE SENSE IN THE HEAD!
IT KILLS IMAGINATION DEAD!
IT CLOGS AND CLUTTERS UP THE MIND!
IT MAKES A CHILD SO DULL AND BLIND
HE CAN NO LONGER UNDERSTAND
A FANTASY, A FAIRYLAND!
HIS BRAIN BECOMES AS SOFT AS CHEESE!
HIS POWERS OF THINKING RUST AND FREEZE!
HE CANNOT THINK — HE ONLY SEES!
Favourite book number 3
James and the giant peach – You have to love a story about a neglected and sorrowful little boy, two wicked aunts who get their just desserts, a little man with a bag of magic seeds and a giant peach that gets impaled on the Empire State Building. Roald Dahl has a very wicked sense of humour and the deaths of the aunts who get ironed out on the lawn as flat as pancakes and the naughty descriptions of the American Army officials are really very funny. A strange ship with a crew of enormous insects just has to tickle your fancy. My favourite of the insects was Miss Ladybird, with her kind heart, and the Caterpillar with his many boots. Michael likes this book the best and he thought the scene where the giant spider peeps over the edge of the peach and looks at the Army people below, just about giving them a heart attack with her ferocious looks, was hysterical.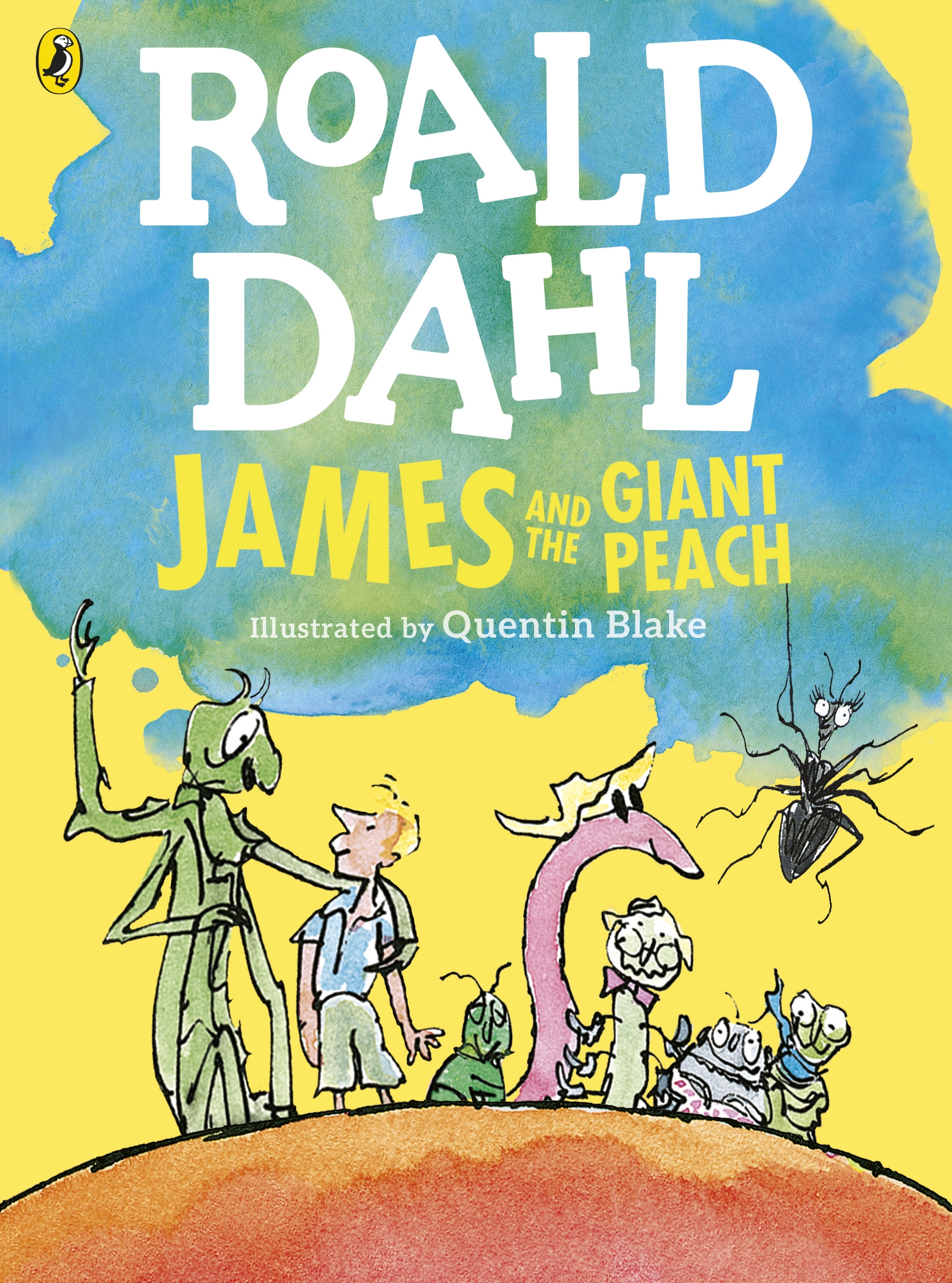 You can read more about Roald Dahl and his books and enjoy all the wonderful illustrations here: https://www.roalddahl.com/roald-dahl/characters/children
Have you read Roald Dahl? Which book is your favourite?
Robbie