Christmas is my favourite time of year. I always has been and when I was a much younger girl I used to spend the weeks leading up to Christmas making all sorts of fun, festive treats. When I was eleven, I made the three kings in the form of cardboard trays and filled the trays with sweets for my parents for Christmas. At the age of 15, I bought a small Christmas tree for my Mother for Christmas and my sisters and I spent many happy hours making all sorts of decorations for this tree. My Mother loved the tree and we still have it and even a few of the decorations that have survived the passage of time. I have subsequently used this same idea a few times with my own children, who made a Christmas tree for each of their grannies (including my Mom), with my Sunday School class, who made a Christmas tree for one of our minsters and with the younger son's school class who decorated a Christmas tree for their teacher in grade 2. When I was 18, I laboured over a beach theme for Christmas and made twenty one chocolate cups and filled them with moulded chocolate shells.
My work colleague and friend, Donna, recently got married and this was her first Christmas as a married lady. She has a beautiful and sophisticated Christmas tree which is quite in keeping with the neat and competent Donna that I know. I told her that I would share a picture of our Christmas chaos tree, and here it is!
I didn't add any Christmas lights this year as I couldn't face the job of detangling the wires. My nieces assisted with packing up the Christmas tree last year [Smile!].
I also thought I would share some of my favourite Christmas decorations so here they are.
The blue angel was made by my son, Gregory, when he was four and the Christmas tree was made by my son, Michael, when he was 2 1/2.
To go with all these amazing decorations and fond memories, each year I also bring out all my favourite Christmas stories and extracts from my favourite books about Christmas. A few of these old favourites of mine are as follows:
The Elves and the Shoemaker
The Elves and the Shoemaker by Jacob Grimm. This story was originally written in 1806 and forms one of the Grimm's Fairy Tales. The story features a poor shoemaker who is in desperate need and who is assisted out of his plight by a group of industrious elves who work through the night making marvellous shoes.
Anne of Green Gables – extract
Matthew insists on puffed sleeves is an extract from the children's classic Anne of Green Gables written by L M Montgomery in 1908. Anne Shirley is an unusual orphan girl with bright red hair who ends up being adopted by Marilla and Matthew Cuthbert, an elderly brother and sister team who run a small farm and who are both childless. Anne longs for fashionable puffed sleeves and for a dress that looks like the dresses the other girls are wearing but Marilla is very old-fashioned and makes her dresses with plain sleeves. Matthew engages the assistance of a nosy neighbour to procure Anne the dress of her dreams for Christmas.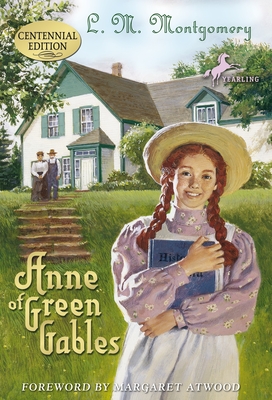 Anne of Green Gables is also available in an abridged form by Classic Starts.
What Katy Did at School – extract
Katy, her sister Clover and their friend, Rose Rad, are at boarding school over Christmas. The school is run by a very strict lady, Mrs Nipson, and she is not feeding the girls very well at all. The girls are all hoping for Christmas boxes, filled with treats, to arrive from their homes but, due to heavy snowfall, none had arrived by Christmas Eve. Due to very good fortune, Katy and Clover's Christmas box arrives late on Christmas Eve and the girls are delighted. The box is amazing and, in the true spirit of Christmas, the two girls make up parcels to share with all their fellow boarders. What Katy Did at School was written by  Sarah Chauncey Woolsey under her pen name Susan Coolidge in 1872. It details the adventures of a twelve-year-old American girl, Katy Carr, and her family, including her five brothers and sisters, who live in the fictional lakeside Ohio town of Burnet in the 1860s.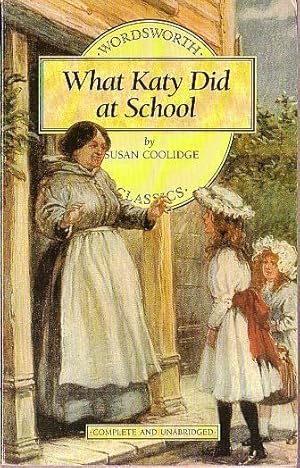 A Christmas Carol – extract
Christmas wouldn't be Christmas without Charles Dickens, would it? The Cratchits' Christmas Goose is an extract from A Christmas Carol, a novella by Charles Dickens that was first published in London on 19 December 1843.  A Christmas Carol is the story of a bitter old miser named Ebenezer Scrooge, who is visited by the ghosts of his deceased former business partner, Jacob Marley, and three other ghosts, namely, the ghosts of Christmas Past, Christmas Present and Christmas Yet to Come on Christmas Eve. The result of these visitations is that Ebenezer sees the error of his ways and starts to transform into a better, kinder person. The Cratchits' are a poor family and have a disabled son, Tiny Tim.  Mr Crachit works for Ebenezer and is poorly paid by him and overworked. Ebenezer's very first charitable gesture on Christmas morning, following the visitation, is to arrange for an enormous goose to be sent to the Crachits' for their Christmas dinner.
Follow Robbie Cheadle at:
Blogs: robbiesinspiration.wordpress.com and goodreads.com
Facebook: @SirChocolateBooks
Twitter: @bake and write